Faith Nilhas (President)
Faith currently works at Lawrence Memorial Hospital and has been in the field of laboratory medicine for 37 years. About 17 of those years have been as a blood bank supervisor. Faith loves to talk about her profession and educate others of the behind the scenes work we do in the laboratory. This is often to the dismay of her children, Amy, Blake, and Morgan, who don't appreciate her graphic talks at the dinner table.
Spending time with her four beautiful grandchildren, Brenna, Braden, Ryann, and Kali, as well as traveling to new destinations occupies her time away from the lab. Two of her favorite trips recently were to Italy and Alaska and she will soon be visiting London and Paris. Zumba helps keep her active and relieve the stress that can come during those difficult blood bank workups.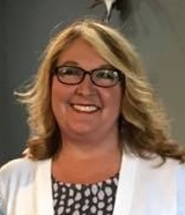 Michele Burgin (President Elect)
Michelle Burgin received her certification as a MLT from Michigan Paraprofessional Training Institute from Romulus Michigan in 1986. She was a certified MLT through AMT for about 3 years after which she was eligible to test for her MT certification. In January of 1991 she decided to return to school to work towards her bachelor's degree. She received her Bachelor's degree in Biology with a minor in Chemistry from University of Central Missouri in Warrenburg, Missouri in May 1997. She has worked at Bothwell Regional Health Center since December 1986 except for 3 years from May 1997 - July 200 where she worked at Capital Region Medical Center. She returned to Bothwell in July of 2000. She took the Specialist in Blood Banking (SBB) course through the Gulf Coast School of Blood Bank Technology sponsored by Gulf Coast Regional Blood Center in Houston, Texas in 2008. She has been certified as a SBB since August of 2009. She has served on the board of HAABB since 2010 holding various positions including Secretary, Member-at-Large, Vice President, and President.


Charles McDonald (Past-President)
Charles McDonald is a Clinical Terminologist at Cerner Corporation as a part of the Discern DAAKOS team. He has been a Medical Technologist for over a decade and a half, spending most of his career as a "blood banker" and continues to work in the hospital clinical laboratory while being involved with the Cerner Discern team. Charles has an advanced understanding of standard terminologies, mapping and data standardization. He has a desire to leverage Health Information Technology (HIT) in establishing best practice, clinical quality data capture and health information exchange.
Charles is an active member of the Heart of America Association of Blood Banks (HAABB). He currently serves as President –Elect. Charles is also an active member of the Clinical Laboratory Management Association, where he sits on the Board of Directors as Secretary for the Kansas City Chapter. He also works with Heart to Heart International as a volunteer consultant for the Sojourner Student Run Clinic at 9th and Grand in Kansas City, MO.
Charles' goal is to continue to work to promote growth of our profession within the chapter, in the local community, nationally, and internationally, by fostering education and networking opportunities. "It has been an honor to work as a Board member of HAABB, and it is a privilege to continue to serve the membership."


Krystal Tray (Vice President)
Krystal graduated from University of Iowa and has been a Medical Technologist for 35 years. The first 5 years of her career were spent at the VA hospital in Iowa City, Iowa and then she moved and worked in California for 14 years (doesn't everyone want to be nearer the ocean) before returning to the Midwest. Krystal started as a Lead Tech in Blood Bank with American Red Cross at the University of Missouri. Krystal is currently the Transfusion Services Supervisor for both the University of Missouri Hospital and Women's and Children's Hospital in Columbia, MO. It is challenging and yes, it is exhausting, but also fun. She is a returning member to the board. Krystal and her husband, Chris, have 2 children and the youngest will graduate from college in the spring of 2018!


Gina Gramlich (Treasurer)
Gina is a Clinical Laboratory Scientist (ASCP) with extensive experience in areas of Transfusion Medicine and Special Coagulation (factor assays, inhibitors, lupus). She currently oversees transfusion service for 150 bed hospital in mid-Missouri as Blood Bank Lead Technologist/Supervisor (12 years - ongoing). Services include emergency and massive transfusion, oncology services, sickle cell and therapeutic apheresis, as well as complete antibody identification and product procurement. Responsible for maintaining all regulatory compliance, new processes and equipment evaluation and validation, and staff competency/training. She is also the Mediware HCLL Product Specialist and perform any blood bank test/table changes to the system as well as perform all upgrade validations. EPIC Beaker LIS "Super Users" responsible for assisting with upgrade validations and assisting/mentoring staff during upgrade implementation.
Her past experience includes:
HLA/Transplant laboratory (1 yr) performing donor and recipient testing prior to solid organ transplant for the University of Missouri Columbia/employed by American Red Cross. Also selected HLA matched Platelet Products.
Coagulation Laboratory Supervisor for University of Missouri Columbia/Employed by American Red Cross (4 years)- manage department with 10 employees. Test menu including extensive special coagulation testing: Protein C, S, factor assays and inhibitor assay, VWD workup, platelet aggregation, and APCR.
Memorial Hospital Jefferson City, MO (2 years) - Blood Bank Lead Technologist for 50 bed hospital.
Blood Bank Lead Technologist/ Staff Technologist for University of Missouri Columbia/Employed by American Red Cross (9yrs) - performed all testing for 350 + bed full service hospital and Class 1 Trauma Center. As Lead Technologist, supervised laboratory assistants and assisted Blood Bank Supervisor with duties as assigned (procedures/training/billing).
She previously served 4 years as a General Board Member for HAABB and was responsible for the upkeep and redesign of the organization's website.


Megan Dupont (Secretary)
Megan Dupont holds a Bachelor's degree in Biological Sciences from the University of Missouri-Columbia and graduated from North Kansas City Hospital's School of Clinical Laboratory Science in 2010. Megan's career as a Medical Laboratory Scientist began at North Kansas City Hospital where she held positions as a generalist working both day and nightshifts and eventually accepted a full-time dayshift position in the Transfusion Services department. While at NKCH, she enjoyed having many opportunities to teach the future laboratorians of tomorrow in both a clinical and lecture setting. In 2015, Megan attended Indiana Blood Center's Transfusion Medicine Education program and completed her certification as a Specialist in Blood Banking (ASCP) in 2016. Megan currently holds a night owl position in the Immunohematology Reference Laboratory at the Community Blood Center of Kansas City where she enjoys applying her knowledge as a SBB to complete complex serological workups as well as educate the community on varying topics in Blood Banking.
In her time away from the lab, Megan enjoys being a wife and stepmother, being active in church, and volunteering for Friends of Parkville Animal Shelter.


Dr. Gagan Mathur
(Member at Large)
Dr. Gagen Mathur is currently the Clinical Pathologist, Transfusion Medicine/Blood Banking for Saint Luke's Health System in Kansas City, MO. View Dr. Mathur's CV here.


Ryan Pyles (Member at Large)
Ryan Pyles graduated from Forest Park Community College in 2012 with an Associates in Applied Sciences degree. Shortly after graduation, he started working at SSM Health Cardinal Glennon Children's Hospital in St. Louis and is still currently employed there today. Ryan participates in the AABB's Professional Engagement Program and is a member of AABB's Pediatric Transfusion Medicine Subsection.


Susie Shaw (Member at Large)
Susie was born in Hawaii and still has saltwater in her veins. She obtained her BA in biology from Lewis and Clark College in Portland, Oregon. She completed her medical technologist training in Mountain View, California. She is fluent in Spanish. Although she has worked in all departments of the laboratory, blood bank has always been her passion! She is currently working at the Via Christi Hospital Blood Bank in Manhattan, Kansas. She also serves as the blood drive recruiter for Via Christi. Since 2013, she has been honored and delighted to get to know better the others serving on the HAABB board of directors.


Misheil Coyoca Savage (Member at Large)
Misheil Savage graduated in Cebu Doctors University in Cebu City, Philippines with BS in Medical Technology.She worked in Vicente Sotto Memorial Medical Center and the Department of Health Regional Blood Center VII before emigrating in 2002. Since then she has worked in the blood bank at Barnes Jewish Hospital in St. Louis.She has served as a Lab Ambassador and is currently enrolled in the SBB and Clinical Lab Management program at Rush University in Chicago.


Kathryn Harrison (Member at Large)
Kathryn graduated with her BS in Medical Technology from Wichita State University. After which, she began her MT career at Midwest Transplant Network performing HLA typing and providing solid organ transplant support for the local kidney program. In 2006, she joined the American Red Cross as a Reference Lab Blood Banker. After taking an 11-month hiatus in 2015 to do customer support for the transfusion software company, Haemonetics, Kathryn returned to the American Red Cross to become IRL Manger. She received her Specialist in Blood Bank Technology in August 2016. Currently, Kathryn is serving as the Vice-President of the SafeTrace TX User's Group which provides the exchange of ideas and experiences as well as influencing product changes maintained by Haemonetics, Inc. In her free time, Kathryn enjoys reading, sports, and spending time with her two sons and husband.


Dr. Daniela Hermelin (Member at Large)
Dr. Daniela Hermelin is a currently a 4th year AP/CP pathology resident at St. Louis University School of Medicine and will continue as the transfusion medicine fellow at SSM St. Louis University Hospital and Cardinal Glennon Children's Hospital in July 2018. She has a passion for medical education and currently serves on the AABB eLearning committee. Dr. Hermelin is honored and excited to serve on the HAABB Board of Directors and looks forward to expanding educational and collaborative opportunities. View Dr. Hermelin's CV here.


Patrick O'Malley (Vendor Representative)
Pat O'Malley has been a Senior Account Manager at the American Red Cross since May 2017. Pat graduated from the University of Kansas with a Business Administration and an Accounting degree and received his C.P.A. certificate in 1993. He has spent the last 23 years selling surgical instruments and implants in Kansas for primarily Medtronic and Stryker Corporations. Pat lives in Wichita with his wife Debbie and their 3 children that range from 16 to 21 years old. In his free time Pat enjoys pickleball, golf and hunting.


Pat Parton (Vendor Representative)
Pat Parton began her career at Community Blood Center 26 years ago in the Virology and Immunology department and is currently the Director of Production and Distribution. She previously worked at Southwest Foundation for Biomedical Research in San Antonio, TX and Hybritech, Inc. in San Diego, CA. She has been a member of HAABB for many years and has served on the board as Vendor Rep since the early 2000's. She is active in her church, enjoys walking, reading, and spending time friends and family.


Jennifer Jung (Webmaster)
Jennifer Jung graduated from St. Louis University with a Bachelor of Science degree in Clinical Laboratory Sciences. While earning her degree, she did her blood bank clinical rotation at the American Red Cross Immunohematology Reference Laboratory (IRL) where she fell in love with blood bank. After graduation, she returned to the Red Cross and began her blood bank career as medical technologist on the evening shift. She has worked her way through the ranks to her current position as Supervisor. She enjoys the variety of work and interesting cases that the IRL allows her to experience on a daily basis.
Jennifer was asked to join the HAABB Board of Directors in 2002. She has served on the board since then and has had the pleasure of serving in every role of the board except vendor representative at least once.