Dr. Emily Coberly (President)
Emily Coberly, MD completed medical school and residency training at the University of Missouri-Columbia, followed by a fellowship in Transfusion Medicine at Vanderbilt University. She currently serves as Medical Director of the Missouri/Arkansas Region for the American Red Cross. She is interested in Quality Improvement and Patient Blood Management, and is a member of the AABB PBM Standards Committee.


Shay Jones (President Elect)
Shay Jones received his undergraduate degree in Biology from Franklin College in Franklin, Indiana and his Medical Technologist training from St. Francis Hospital in Beech Grove, Indiana. Upon completion of Medical Technology training, he was hired on as an Immunohematologist at Community Blood Center. Shay has broadened his training to include training as a genomics tech at the National Center for Blood Group Genomics. Shay is also the Kansas City Education Coordinator where he enjoys passing on knowledge to CLS students and pathology residents. He has presented numerous case studies at HAABB.
In his free time, Shay enjoys spending time with his wife and his dog Gracie, watching movies, reading, and taking on house projects throughout the year.


Diana Moroney (Past President)
Diana Moroney has been employed by the American Red Cross for 29 1/2 years. She has a Masters in Business Administration with a Healthcare Emphasis, is a Medical Technologist registered with the American Society of Clinical Pathology with a Specialist in Blood Banking certification and a BS in Biology.
She has worked in a variety of positions throughout her career at the American Red Cross which included several years in Clinical Laboratory Management where she oversaw a Transfusion Service Laboratory, Coagulation Laboratory and Transplant Laboratory. For the past 12 years she has held the position of Manufacturing Director at the ARC Saint Louis Site which processes blood collected in Missouri, Illinois, Kentucky, Arkansas and Indiana.
Carrie Easley (Vice President)



Carrie Easley graduated from The University of Kansas Medical Center Medical Technology program in 1999. She spent the first half of her career working PRN at smaller community hospitals as a generalist. This allowed her a great deal of time at home when her children were young. She started working at Stormont Vail Health in Topeka in 2009, and quickly became a dedicated Blood Bank laboratory scientist. In 2013, she was promoted to Blood Bank Supervisor and in 2020, to Laboratory Manager of Quality & Transfusion Safety. Carrie serves on many laboratory and hospital-wide committees. She enjoys all aspects of her role, but is particularly proud of her work to expand their patient blood management efforts and to help in caring for their most ill and injured patients as Chair of their multi-disciplinary Massive Transfusion Review Committee. Organizing the MTP case reviews has given her the amazing opportunity to work with physicians, nurses, pharmacists, and other health care professionals to constantly improve a challenging process.
During her time outside of the hospital, she enjoys spending time with her husband, five children, and our golden retriever named Hugo. Hobbies include gardening, reading, vacations to the beach, and serving as the Care Package Coordinator for the Congenital Heart Defects Families Association.
Gina Gramlich (Treasurer)
Gina is a Clinical Laboratory Scientist (ASCP) with extensive experience in areas of Transfusion Medicine and Special Coagulation (factor assays, inhibitors, lupus). She currently oversees transfusion service for 150 bed hospital in mid-Missouri as Blood Bank Lead Technologist/Supervisor (12 years - ongoing). Services include emergency and massive transfusion, oncology services, sickle cell and therapeutic apheresis, as well as complete antibody identification and product procurement. Responsible for maintaining all regulatory compliance, new processes and equipment evaluation and validation, and staff competency/training. She is also the Mediware HCLL Product Specialist and perform any blood bank test/table changes to the system as well as perform all upgrade validations. EPIC Beaker LIS "Super Users" responsible for assisting with upgrade validations and assisting/mentoring staff during upgrade implementation.
Her past experience includes:
HLA/Transplant laboratory (1 yr) performing donor and recipient testing prior to solid organ transplant for the University of Missouri Columbia/employed by American Red Cross. Also selected HLA matched Platelet Products.
Coagulation Laboratory Supervisor for University of Missouri Columbia/Employed by American Red Cross (4 years)- manage department with 10 employees. Test menu including extensive special coagulation testing: Protein C, S, factor assays and inhibitor assay, VWD workup, platelet aggregation, and APCR.
Memorial Hospital Jefferson City, MO (2 years) - Blood Bank Lead Technologist for 50 bed hospital.
Blood Bank Lead Technologist/ Staff Technologist for University of Missouri Columbia/Employed by American Red Cross (9yrs) - performed all testing for 350 + bed full service hospital and Class 1 Trauma Center. As Lead Technologist, supervised laboratory assistants and assisted Blood Bank Supervisor with duties as assigned (procedures/training/billing).
She previously served 4 years as a General Board Member for HAABB and was responsible for the upkeep and redesign of the organization's website.
Mary Signaigo (Secretary)
Mary is the Clinical Lab Educator for the Blood Bank at Mercy Hospital St. Louis. Her primary role as CLE is to teach college students or graduates with a Bachelor of Science the clinical requirement for obtaining MLS certification. Mary is also responsible for all procedures, training, audits and competencies for the Blood Donor Services and Transfusion Services departments. Mary was born and raised in St. Louis but went to college at Avila University in Kansas City then lived in Dallas and Austin, Texas before returning to her hometown. Flexibility is one benefit of being an MLS.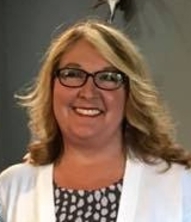 Michele Burgin (Member at Large)
Michelle Burgin received her certification as a MLT from Michigan Paraprofessional Training Institute from Romulus Michigan in 1986. She was a certified MLT through AMT for about 3 years after which she was eligible to test for her MT certification. In January of 1991 she decided to return to school to work towards her bachelor's degree. She received her Bachelor's degree in Biology with a minor in Chemistry from University of Central Missouri in Warrenburg, Missouri in May 1997. She has worked at Bothwell Regional Health Center since December 1986 except for 3 years from May 1997 - July 200 where she worked at Capital Region Medical Center. She returned to Bothwell in July of 2000. She took the Specialist in Blood Banking (SBB) course through the Gulf Coast School of Blood Bank Technology sponsored by Gulf Coast Regional Blood Center in Houston, Texas in 2008. She has been certified as a SBB since August of 2009. She has served on the board of HAABB since 2010 holding various positions including Secretary, Member-at-Large, Vice President, and President.
Kathryn Harrison (Member at Large)
Kathryn graduated with her BS in Medical Technology from Wichita State University. After which, she began her MT career at Midwest Transplant Network performing HLA typing and providing solid organ transplant support for the local kidney program. In 2006, she joined the American Red Cross as a Reference Lab Blood Banker. After taking an 11-month hiatus in 2015 to do customer support for the transfusion software company, Haemonetics, Kathryn returned to the American Red Cross to become IRL Manger. She received her Specialist in Blood Bank Technology in August 2016. Currently, Kathryn is serving as the Vice-President of the SafeTrace TX User's Group which provides the exchange of ideas and experiences as well as influencing product changes maintained by Haemonetics, Inc. In her free time, Kathryn enjoys reading, sports, and spending time with her two sons and husband.
Diane Sempek (Member at Large)
Diane received her Bachelor of Science degree in Medical Technology from the University of Nebraska Medical Center and later completed SBB certification. She worked at the American Red Cross in Omaha before relocating to St. Louis. She has worked many years for BJC Healthcare at the blood banks at St. Louis Children's Hospital and Barnes Jewish Hospital as a technologist, lead technologist and supervisor. She is currently the Technical Supervisor of the Cellular Therapy Laboratory at Barnes Jewish which processes progenitor cells for transplant and other cell therapies for the hematology oncology departments and other service areas. She enjoys learning about the new advances in cell therapy treatments and future product uses. For entertainment she enjoys reading and gardening.
Krystal Tray (Member at Large)
Krystal completed her Medical Technology program at University of Iowa. Since, she has worked at various hospitals in Iowa, California and Missouri. She has been a blood banker most of her career working through the ranks from bench tech, to lead tech, to supervisor of a multiple site hospital transfusion service. Krystal is currently the Quality Manager for the Pathology and Laboratory Medicine Service at the Harry S. Truman VA in Columbia MO. When time allows she enjoys gardening and trying out new recipes.
Marvin Twenter (Member at Large)
Marvin's path to becoming a medical laboratory scientist was somewhat circuitous. After living and working in Oklahoma and Texas as a manager/district manager for a lumber company, he and his wife decided to move back home to central Missouri to be near family. He received a Bachelor of Science degree in biology with a minor in chemistry, as well as a bachelor's in Clinical Laboratory Science from the University of Missouri in Columbia. He received 10 plus years of great experience in transfusion medicine and coagulation studies working with wonderful people at University Hospital and Women's and Children's Hospital, employed first as an American Red Cross employee and then a University of Missouri employee. Two years ago, he "moved across the street" where he serves our veteran's as the supervisor of transfusion services and the immunology laboratory at the Truman VA Medical Center. He also oversees the surgical pathology report process at that institution as well as working with Clinical Laboratory Science students.
He and his wife, Sharon, enjoy spending time with their five children, but even more so with their grandchildren. Marvin is an active member of his parish, as well as the Knights of Columbus where he is a 4th Degree member and serves in the Honor Guard. He enjoys golf, woodworking and helping family, friends and neighbors with their construction projects.
Laurie Wolf (Member at Large)
Laurie Wolf has over 25 years of experience in the field of transfusion medicine. She received her Bachelor of Science degree in Medical Technology from the University of Central Missouri and a Specialist in Blood Banking from the University of Chicago – Illinois. Laurie began her career as a generalist at St. Luke's Hospital of KC. She then increased her skills as an immunohematologist at Community Blood Center reference laboratory. Laurie is currently at The University of Kansas Health System where she has held roles in the Transfusion Service as a Technical Specialist and later the Manager of the department. Her current role is the Assistant Director of the Clinical Labs and Transfusion Service.
Laurie has held many positions on the HAABB Board including President.
Zac Eblen (Vendor Representative)
Zac Eblen is the Manager of Production and Distribution at Community Blood Center in Kansas City. Zac has worked at CBC for the last 7 years, starting out as a Component lab tech, and then trainer and supervisor with the processing lab before being promoted into management. Zac spent 8 years in the Navy serving as a Hospital Corpsman with the Marines. Zac lives in Holt, Missouri with his Wife and 2 boys age 1 and 5.
Patrick O'Malley (Vendor Representative)
Pat O'Malley has been a Senior Account Manager at the American Red Cross since May 2017. Pat graduated from the University of Kansas with a Business Administration and an Accounting degree and received his C.P.A. certificate in 1993. He has spent the last 23 years selling surgical instruments and implants in Kansas for primarily Medtronic and Stryker Corporations. Pat lives in Wichita with his wife Debbie and their 3 children that range from 16 to 21 years old. In his free time Pat enjoys pickleball, golf and hunting.
Jennifer Jung (Webmaster)

Jennifer Jung graduated from St. Louis University with a Bachelor of Science degree in Clinical Laboratory Sciences. While earning her degree, she did her blood bank clinical rotation at the American Red Cross Immunohematology Reference Laboratory (IRL) where she fell love with blood bank. After graduation, she returned to the Red Cross and began her blood bank career as a medical technologist on the evening shift. She has worked her way through the ranks to her current position as IRL Supervisor. She enjoys the variety of work and interesting cases that the IRL allows her to experience on a daily basis.
Jennifer was asked to join the HAABB Board of Directors in 2002. She has served on the board since then and has had the pleasure of serving in every role of the board except vendor representative at least once.
In her spare time she enjoys watching the many sports played by her only son, BBQing with her hubby, baking cookies, traveling and capturing moments in pictures.